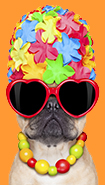 If there was an audio box to think out of we'd be there.
We believe in being different. Our audio production creates entire worlds of sound to disrupt audio monotony.
Our voice talent are pros who know how to turn your phrase to rise to the next level.
So go ahead, this year be different. Take a chance. Be brave with your sound. Be fierce. Lead your pack.
Flowery swim cap optional. Shades required.
Call us at 800-355-SPOTS (7768) and search our professional voiceover talent here.